Galv. Steel Chain Link Fence
Chain link fence also named diamond wire mesh, wovened with low carbon mild steel wire or stainless steel wire. The most popular type of chain link mesh is galvanized steel chain links. With mild steel wire as base material.
Chain link fence provides strong, durable and flexible construction. The closely spaced chain link fencing is extensively used as fences for playground and gardens, super highway, railway, airport, residence, etc.
Types of chain link fence:
Electro galvanized chain link fence
Hot dipped galvanized chain link fence
PVC coated chain link fence
Stainless steel chain link fence
Why Galvanized Steel Chain Link Fence a universal fencing?
Galvanized Steel Chain Link Fence is supplied in mesh rolls. We supplies various chain link wire mesh for customers, mainly galvanized chain link fence (two types: electro galvanized and hot dipped zinc plated fence), stainless steel chain link fence and PVC coated chain link fence. Galvanized chain link fence is the most popular and economic cost type. Other types of chain link costs higher due to more processing steps involved ( for example, the plastic coated chain link fence needs additional plastic coating besides galvanizing) and materials cost ( for example, stainless steel costs much higher compared with mild steel wire applied for the galvanized steel chain link mesh).
So, if you emphasize on colors, plastic coated chain link fence is your best choice for it can be painted freely to many colors.
Stainless steel wire chain link fence come to the application of high grade fencing and maintaining free sites;
Galvanized fence is chosen for its zinc protective property, economic cost and bright shine surface.
Features:
Steel wire mesh fencing provides an aesthetically pleasing yet strong barrier. Each fence panel is produced by an automatic hooking woven process. The simple, clean lines are particularly suitable for both prestige and security applications including residential, sports, leisure and industrial uses. Woven diamond pattern provides strong, durable and flexible construction.
Galvanized Steel Chain Link Fence
Aperture:  1'', 1.5'', 2'', 2.25'', 2.4'', 2.5'', 3''.
Mesh: 25mm, 40mm, 50mm, 56mm, 60mm, 64mm, 76mm.
Width:0.5m, 1m, 1.5m, 2m, 2.5m, 3m, 3.5m, 4m 
Length:10m---30m according to your require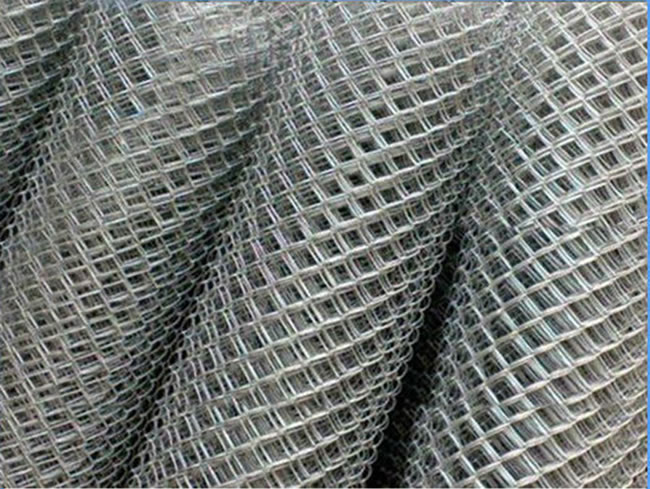 9 gauge Galvanized Steel chain link fence
Application:
Commercial grounds
Private grounds
Road and transmit
Used as fencing, decoation or protection for various facilities in industry, agriculture, transport etc.
Package:
Wrap up the two edges of the crimpled rolls with the plastic weaving bags.
Customers service avaliable.
Galv. Steel Chain Link Fence Specification
Opening
1"
1.5"
2"
2.25"
2.4"
2.5"
3"
4"
25mm
40mm
50mm
55mm
60mm
65mm
76mm
100mm
Wire diameter
18#-6#
1.20mm-5.00mm
Length of the roll
1.0m-50m
Width of the roll
0.5m-5.0m
Materials and specifications can be made according to customers specific require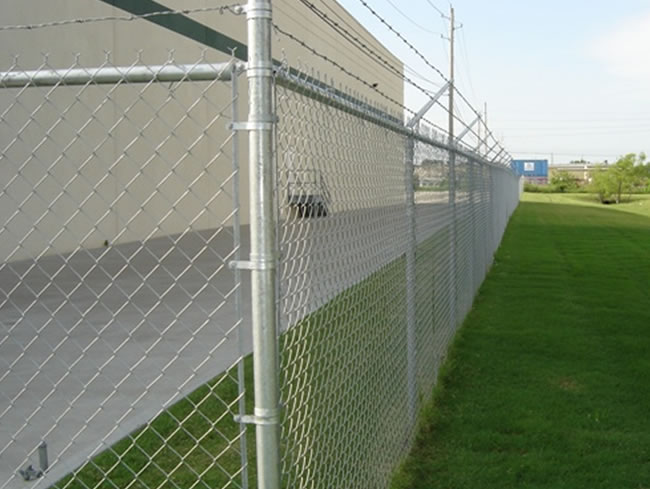 Galv. Steel Chain Link Fence Used with Barbed Wire as a security fencing for residences
Hot Dip Galvanized Chain Link fence system.
Infill; Hot Dip Galvanized chain link Fabric. All metals are Hot dip Galvanized Only
Total Height – 2.0m
(Including: Line wire,Stirrup wire,Tie Wire).
Fence Post including 75mm×75mm×6mm MS Angle iron with Y Shape above.All members shall be Galvanized (minimum 80 microns coating thkness and as per BS 729 of BS EN 7371.)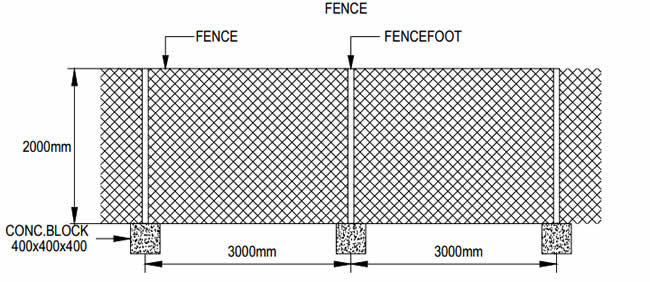 Supply of Hot dip Galvanized Chain Link Double Leaf swing gate.
Infill; Galvanized chain Link Fence Fabric.
Galvanized
6.0m (Wide) x 2.00m (High)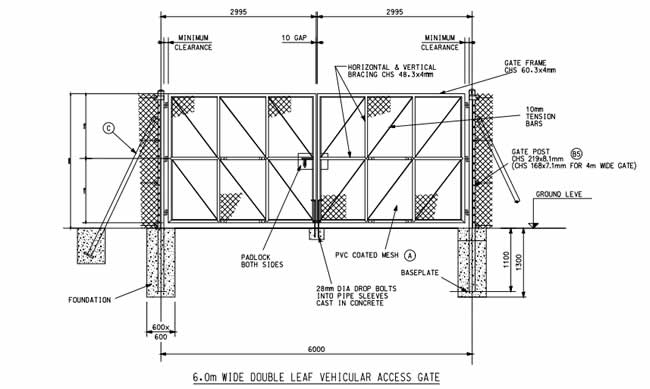 Metal Mesh Products
Materials Applied