Stainless Steel Wire Mesh
FilTo supplies full range of stainless steel wire mesh woven from quality ss wire material in SUS/AISI 201 202 302 304 310 310S 316 316L 321 430 etc. Stainless steel wire mesh / screen offers excellent resistance against acid, alkali, heat and corrosion. It is widely used for making of wire mesh filters and industrial screens. Compared with Mild Steel Mesh, stainless steel mesh costs high and has more benefits in using under tough conditions. Unlike other steel wire mesh, no further galvanizing or coating is required for ss wire mesh.
Applications of Stainless Steel Wire Mesh: It is suitable for screening and filtering in the acid and alkali conditions; as slurry mesh in petroleum industry, screening mesh in chemical fiber industry, acid cleaning mesh in electroplating industry. It is used in mining, petroleum, chemical, food, pharmaceutical, machine manufacturing, etc.
Material: Mainly 304 and 316. Also Stainless steel wire 201,202, 321, 430, etc.
Common Specifications:
Sizes: Standard roll width: 1m to 48"
Standard roll length of stainless steel wire mesh: 30m to 100"
Mesh: 1-535mesh
Wire diameter: 0.05-1.5mm(normally from 0.25-0.80mm)
Weaving Pattern:
A: Plain weave, twill weave, Dutch plain weave or Dutch twill weave
B: Plain weave can be woven from 1X1mesh to 635X635 mesh
C: Plain Dutch weave can be woven from 10X64mesh to 80X700mesh
D: Twill weave can be woven from 20x250mesh to400X2800mesh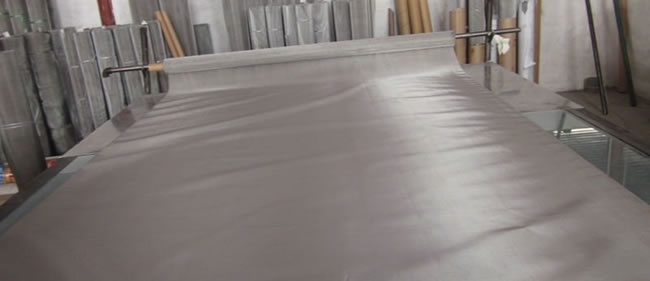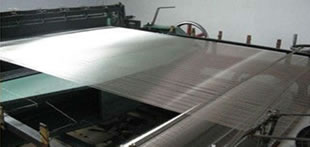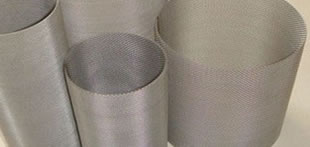 Stainless Steel Wire Mesh and Wire Cloth, Plain Weave
stainless wire mesh
Mesh
Wire Dia. (MM)
Opening (MM)
Material (AISI)
7meshx7mesh
1.00
2.63
304 or316
10meshx10mesh
0.60
1.94
304 or316
12meshx12mesh
0.50
1.62
304 or316
16meshx16mesh
0.40
1.19
304 or316
16meshx16mesh
0.35
1.24
304 or316
18meshx18mesh
0.35
1.06
304 or316
20meshx20mesh
0.40
0.87
304 or316
24meshx24mesh
0.26
0.80
304 or316
30meshx30mesh
0.30
0.55
304 or316
35meshx35mesh
0.17
0.56
304 or316
40meshx40mesh
0.23
0.40
304 or316
50meshx50mesh
0.20
0.31
304 or316
60meshx60mesh
0.15
0.27
304 or316
70meshx70mesh
0.12
0.24
304 or316
80meshx80mesh
0.13
0.19
304 or316
90meshx90mesh
0.12
0.16
304 or316
100meshx100mesh
0.10
0.15
304 or316
120meshx120mesh
0.09
0.12
304 or316
150meshx150mesh
0.063
0.11
304 or316
180meshx180mesh
0.053
0.09
304 or316
200meshx200mesh
0.053
0.07
304 or316
Stainless Steel Wire Mesh and Wire Cloth, Twill Weave
250meshx250mesh
0.040
0.063
316
300meshx300mesh
0.040
0.044
316
325meshx325mesh
0.035
0.043
316L
350meshx350mesh
0.030
0.042
316L
400meshx400mesh
0.030
0.033
316L
450meshx450mesh
0.028
0.028
316L
500meshx500mesh
0.025
0.026
316L
Stainless Steel Wire Cloth, Dutch Weave
Mesh
Wire Dia. (MM)
Material (AISI)
12mesh x 64mesh
0.58 x 0.40
304 or 316
24mesh x 110mesh
0.36 x 0.25
304 or 316
14mesh x 88mesh
0.50 x 0.33
304 or 316
30mesh x 150mesh
0.23 x 0.18
304 or 316
40mesh x 200mesh
0.18 x 0.13
304 or 316
50mesh x 250mesh
0.14 x 0.11
304 or 316
80mesh x 700mesh
0.10 x 0.08
304 or 316
165mesh x 800mesh
0.071 x 0.040
304 or 316
165mesh x 1400mesh
0.06 x 0.04
304 or 316
200mesh x 1800mesh
0.05 x 0.032
304 or 316
825mesh x 2300mesh
0.035 x 0.025
316L
400mesh x 2800mesh
0.030 x 0.02
316L
Metal Mesh Products
Materials Applied