Tomato Cages and Spiral Wire Support
FliTo supplies two types of tomato support hardware: tomato cages and tomato spiral wire support. Tomato cages are strong and durable, made of mild steel wire welded mesh. In cylinder or square shape. Powder coated galvanized or simply hot dipped galvanized. The metal tomato cages and wire support offer the plants nature support, make them growing under control, take up less space, and less susceptible to pests and diseases since the fruits are usually off the ground. Compare with the other garden tools, tomato cages and spiral wire stakes are much easier for uses and cost less. These products are mainly for tomatoes, grape, and other more plants bracings.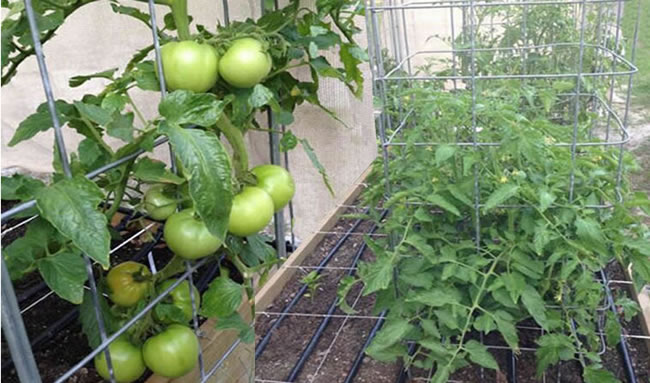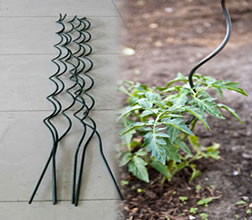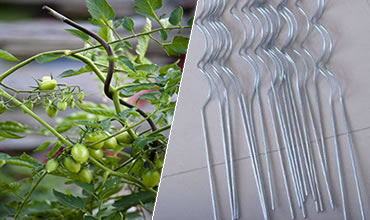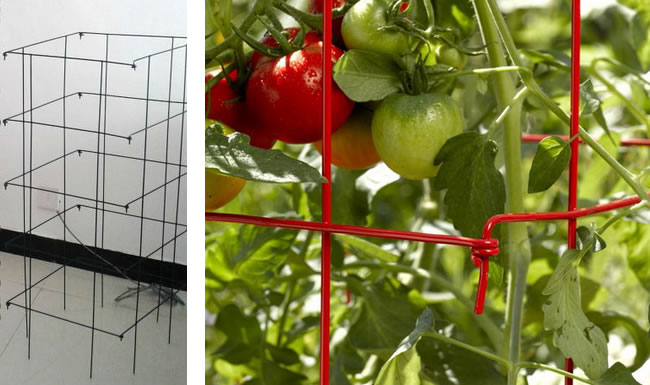 Tomato Cages:
The metal cages are sturdy enough to fully support large plants filled with heavy cherry tomatoes and heirloom tomatoes. With help of wire cages, the tomatoes can grow large and heavy without getting wound up and entangled in a huge mess. The thick wire and strong welded structure will never collapse under the weight of heavy delicious tomatoes.
 
Wire mesh cage supports for tomatoes are very easy to install and large spacing makes tomato harvesting easy. With galvanizing and powder coating surface, the wire cages will last 15 or 20 years.
 
Square and Round Spacing Mesh Tomato Cages:
Materials: Welded mesh from galvanized or power-coated steel wire or strip
Color: galvanized or green powder coated.
Wire diameter: 11 gauge, 10 gauge or 9 gauge.
Mesh opening: 6 inch square.
Cage tall: 5 foot to 7 foot.
Round cage diameter: 18 inch to 30 inch.
Square cage with: 25 inch to 32 inch.
Powder coating (if applicable) colors: Antique black, White, natural rust, copper.
Installation and Uses:
Simply push the tomato cage into the ground and each cage may be anchored at its base by a couple of sturdy 4' length. The stakes are put into the ground on opposite sides just inside the cage, then fasten stakes to the cage for extra stability. The side panels of the cage will support the plant stems without further tying.

Foldable Vegetable Supports, Conical Ring Tomato Cages

10 gauge wire, 11" square x 32" H overall; 24" H installed, with 5" x 8" /8''  x 8''openings.
The conical cages are collapsible for off-season storage.
Measurements: 42"x12"/14"/16",48"x16",54"x16"/18" tall.

Used for vegetable supports hold plants upright for a big harvest of unblemished fruit. This is a kind of sturdy, galvanized steel cages support plants without additional tying. The big openings make harvesting easy.
These heavy-duty, galvanized steel tomato cages are strong enough to support full-grown vines loaded with tomatoes. To make your tomato cage even taller, you can stack one cage on top of another to support the tallest tomato plants.
Spiral Wire Stakes for Tomato Support
Mostly coated into green colors. The spiral wire tomato stakes help to support and keep your growing tomato plants and other climbing plants straight during developing period. No tying and retying required as plant grows. Spiral Tomato Stakes are made of heavy gauge PVC coated with green plastic and the top is capped for safety purposes.
Specifications of Spiral Wire for Tomato Support:
1> 8mm x 1.8m, 8mm x 1.6m, 8mm x 1.5m.
2> 7mm x 1.8m, 7mm x 1.6m, 7mm x 1.5m.
3> 6mm x 1.8m, 6mm x 1.6m, 6mm x 1.5m.
4> 5.5mm x 1.8m, 5.5mm x 1.6m, 5.5mm x 1.5m.
The tomato spiral is the ideal support for any climbing or vine plants.
Metal Mesh Products
Materials Applied