Hot Dipped Galvanized Steel Wire, Processing, Features, Detail Specification and Comparison with Electro Galvanized Wire
| | |
| --- | --- |
| | |
| Hot Dipped Steel Wire Material | Bright Hot Dipped Zinc Plated Steel Wire around Spools |
We use high quality low-carbon steel rod to process hot dipped galvanized steel wire. The low carbon steel after drawing molding, pickling derusting, high temperature annealing and galvanized process.

Diameter range for hot dipped galvanized wire: 1.8 - 5.4mm
Packing: wooden, Packed in plastic spool ,reel, bag, drum or carton, according to your requirements.
Production Process of Hot Dipped Steel Wire: Steel rod coil -- Wire Drawing -- Wire Annealing -- Rust Removing--Acid Washing-- Boiling-- Drying-- Zinc Feeding-- Wire Coiling.

Features: Hot dipped galvanized steel wire has excellent toughness and flexibility, can achieve the highest amount of zinc 300 grams/square meters. Has galvanized layer thickness, strong corrosion resistance and other properties.
Applications: Hot dipped galvanized wire products are widely used as binding wire in construction, handicrafts, wire mesh screen, highway guardrail, product packaging and daily civil, etc.
Galvanized wire is divided into hot dipped galvanized wire and cold electricity galvanized wire. Compared with electro galvanized steel wire, the hot dipped wire has distinction for:
The heated hot galvanizing is melting liquid zinc plating, soak in producing speed, coating thickness but uneven, the minimum thickness market allows 45 micron and tiptop was more than 300 microns. Darker color, consumption, and the base zinc metal metal forming infiltration layer, corrosion resistance, outdoor environment galvanized can keep decades.
Cold galvanizing (electricity galvanized) is in electroplating slot through the current mono-direction make zinc plating appearance, the metal is gradually production speed is slow, coating thickness of uniform, is relatively thinner, and usually only 3-15 microns, the appearance of brightness, corrosion resistance is poor, generally months will rust.
Features and Uses: because the coating is thicker, hot dipped wire obtains better protective performance than electricity galvanized wire, so it is used to harsh working environment, the important protection coating steel parts. Hot dipped galvanized wire products are used in chemical industry equipment, oil processing, Marine exploration, metal structure, electricity, shipbuilding industries.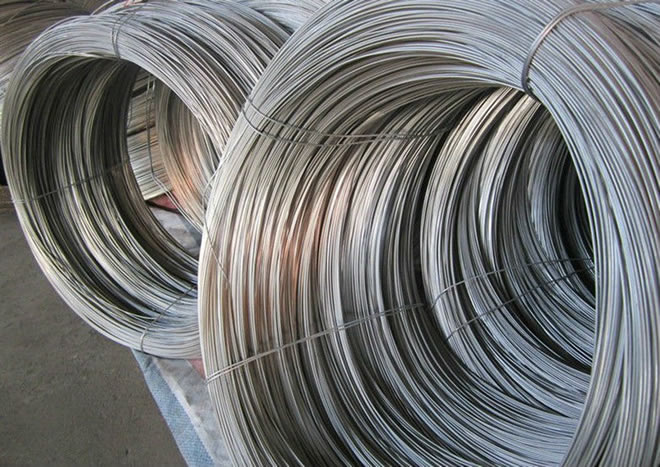 Hot Dipped Zinc Plated Irom Wire Big Coils

Wire Diameter, Tensile Strength, Zinc Thickness and Unit Weight Table List:
| | | | | |
| --- | --- | --- | --- | --- |
| No. | Diameter(mm) | Tensile Strength(n/mm2) | Zinc Thickness(g/m2) | Weight of unit coil(kg) |
| 5.56 | 5.00 | 300-1400 | 30-100 | 400-800 |
| 7 | 4.57 | 300-1400 | 30-100 | 400-800 |
| 8 | 4.19 | 300-1400 | 30-100 | 400-800 |
| 9 | 3.76 | 300-1400 | 30-100 | 400-800 |
| 10 | 3.40 | 300-1400 | 30-100 | 400-800 |
| 11 | 3.05 | 300-1400 | 30-100 | 400-800 |
| 12 | 2.77 | 300-1400 | 30-80 | 400-800 |
| 13 | 2.41 | 300-1400 | 30-80 | 400-800 |
| 14 | 2.11 | 300-1400 | 30-80 | 400-800 |
| 15 | 1.83 | 300-1400 | 30-80 | 400-800 |
| 16 | 1.65 | 300-1400 | 30-80 | 25-500 |
| 17 | 1.47 | 300-1400 | 30-80 | 25-500 |
| 18 | 1.24 | 300-1400 | ≥12 | 25-500 |
| 19 | 1.07 | 300-1400 | ≥12 | 25-500 |
| 20 | 0.89 | 300-1400 | ≥12 | 25-400 |
| 21 | 0.81 | 300-1400 | ≥12 | 25-400 |
| 22 | 0.71 | 300-1400 | ≥12 | 25-200 |
| 23 | 0.64 | 300-1400 | ≥12 | 25-150 |
| 24 | 0.56 | 300-1400 | ≥12 | 10-150 |
| 25 | 0.51 | 300-1400 | ≥12 | 10-100 |
| 26 | 0.46 | 30-45 | ≥12 | 10-50 |
| 27 | 0.41 | 30-45 | ≥12 | 10-50 |
| 28 | 0.36 | 30-45 | ≥12 | 10-50 |
| 29 | 0.33 | 30-45 | ≥12 | 10-50 |
| 30 | 0.30 | 30-45 | ≥12 | 5-50 |
| 30.5 | 0.28 | 30-45 | ≥12 | 5-50 |
Metal Mesh Products
Materials Applied