Plastic Powder Coated Steel Mesh - Welded Mesh and Perforated Metal with PVC Coating Finishes
Plastic coating can be done to many base wire mesh or sheet metal materials. Our plastic powder coated steel wire mesh introduced in this page include welded wire mesh and perforated metal.
Meterial: Low carbon steel wire, stainless steel wire, galvanized wire, PVC wire.
Surface treatment: Electric galvanized before or after weaving, hot-dipped galvanized before or after weaving, PVC coated before or after weaving, PVC coated. 
Shape:in roll or in sheet

Plastic powder coated welded steel wire mesh
PVC coated welded wire mesh is made of quality welded low carbon steel wire mesh galvanized before, then coated with PVC powder or PE powder. The coated layer is even, strong adhesiveness and bright luster with long live good anti- corrosive prosperity. All kinds of colors can be coated according to customers' special requirements. 
Applications: Coated welded mesh is used for poultry cage, egg basket, fence, drain, porch safeguard fence, mouse-prevention netting, mechanical guardrail cover, fence of poultry and vegetables, grid and shelf etc. There are two kinds, zinc-plated and plastic-coated.

Powder Coated Perforated Metal Mesh: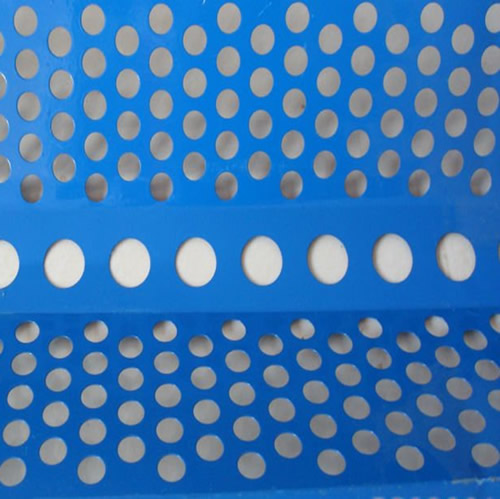 Plastic powder coated perforated steel wire mesh, for Decoration

PVC coated perforated metal sheet with various designs has good permeability and decorative effects. Mainly used for decoration of doors and windows, panels, elevator cabinets, stand, shelf; can be used as sound absorption wall materials for the ceiling and walls in building; also used as exquisite decorative sheets for building staircases, balconies, and environmental friendly office furniture.

Opening Pattern: Rectangle, square, round, triangular, hexagonal, blossom, and many other special patterns according to customer needs.
Material: Carbon steel sheet, stainless steel sheet.
Characteristics: The surface is flat, smooth, beautiful, firm and practical. It has wide usages.
Processing: It is formed by punching and pressing.
Uses: Mining, medicine, food selection, indoor noise, silencers and grain storage ventilation, mechanical protection Low,producting tables and chairs.

Design for perforated plate powder painting line:
1. According to the shape of perforate metal mesh, we design the pretreatment to be economical immersion tank type with 6 stage processings.
2. After chemical cleaning, he pre-treated workpieces will be conveyed to drying furnace for water removal on their surface. The drying furnace is designed being tank type to match with immersion pretreatment tanks, and with a top-door design for easy access of pre-treated workpieces.
3. After drying, the workpieces are ready for powder particle adhesion. Please manually feed them on auto powder painting line. For a better painting result, the spray booth, waster powder recycling system, reciprocator adopts advanced equipments in China through our careful selection. And the spraying guns, both auto and manual are imported from foreign famous company for a longer service life. Then these workpieces will be sent to gas-fired furnace tunnel to let powder melt into a smooth coating.
Process flow for punched metal mesh powder coating line
1. Feed your iron perforated metal mesh on crane hanger for the preparation for chemical cleaning
2. Pre-degreasing stage (50-65 Celsuis for 1 min)
3. Degreasing stage (50-65 Celsuis for 2 mins)
4. Rinsing stage (Room temperature for 1-2 mins)
5. Surface conditioning stage (Room temperature for 1 min)
6. Phosphating stage (35-45 Celsuis for 3 mins)
7. Rinsing stage (Room temperature for 1-2 mins)
8. Drying off oven to remove surface moisture (100-120 Celsuis for 10 mins)
9. Manually transfer the pre-treated objects to powder coating line
10. Powder application with spray guns
11. Powder curing (180-200 Celsuis for 20 mins)
12. Finished product discharging
If above parameters cannot meet with your strict coating need, please contact us for more detail.
Metal Mesh Products
Materials Applied