Stainless Steel Wire
Materials for Stainless Steel Wire: 304, 304L, 316, 316L.
Wire Diameter: 5mm to 0.025mm.
We supply stainless steel wire in two forms of packing: coiled ss wire or spooled stainless wire.  
Features: Stainless Steel Wire enjoys many features, such as wear-resistance, high intensity, small stretching. The finished woven ss wire mesh offer good mechanical and chemical properties also.
Applications:
Stainless Steel Wire is used in weaving of wire mesh and wire netting, manufacturing of soft pipe, steel wire rope, filter material and equipment, spring wire, etc.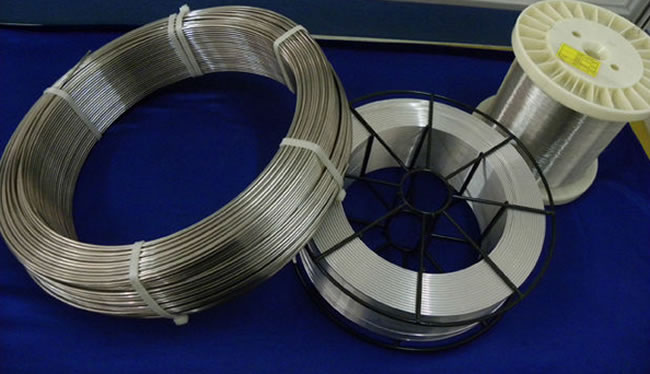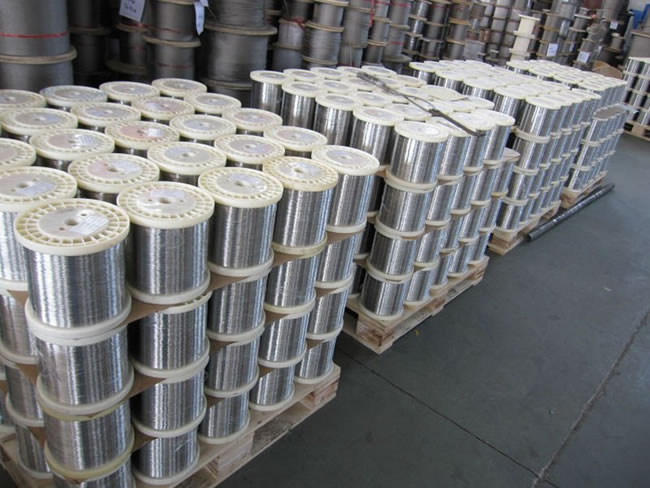 Chemical composition of stainless steel wire

AISI 
Grade

Chemical Composition(%)

 
C
Si
Mn
P
S
Ni
Cr
Mo
304
>=0.08
>=1.00
>=2.00
>=0.045
>=0.030
>8.00~10.50
>18.00~20.00

-

304H
>0.08
=1.00
=2.00
=0.045
=0.030
8.00~10.50
18.00~20.00

-

304L
>=0.030
>=1.00
>=2.00
>=0.045
>=0.030
>9.00~13.50
>18.00~20.00

-

316
=0.045
=1.00
=2.00
=0.045
=0.030
10.00~14.00
10.00~18.00
2.00~3.00
316L
>=0.030
>=1.00
>=2.00
>=0.045
>=0.030
>12.00~15.00
>16.00~18.00
>2.00~3.00
430
=0.12
=0.75
=1.00
=0.040
=0.030

=0.60

16.00~18.00

-

430A
>=0.06
>=0.50
>=0.50
>=0.030
>=0.50

=0.25

>14.00~17.00
-
Sizes of Stainless Steel Wire
Wire Diameter(mm)
Tolerance(mm)
Max. Deviation Tolerance (mm)
0.020-0.049
+0.002 -0.001
0.001
0.050-0.074
±0.002
0.002
0.075-0.089
±0.002
0.002
0.090-0.109
+0.003 -0.002
0.002
0.110-0.169
±0.003
0.003
0.170-0.184
±0.004
0.004
0.185-0.199
±0.004
0.004
0.200-0.299
±0.005
0.005
0.300-0.310
±0.006
0.006
0.320-0.499
±0.006
0.006
Stainless Steel Wire Mechanical Propertie:
Type
(mm)Dia
(N/mm2)Tensilestrength
(%)Elongation
SUS304.SUS304L
0.02-0.05
880-1130
≥10
SUS316.SUS316L
0.02-0.05
650-900
≥8
SUS304.SUS304L
SUS309S
SUS310S
SUS316.SUS316L
SUS321
0.05-0.16
650-900
≥20
0.16-0.50
610-860
0.50-1.60
570-820
≥30
1.60-5.00
520-770
5.00-14.00
500-750
SUS304J3
0.05-0.16
620-870
≥20
0.16-0.50
580-830
0.50-1.60
540-790
≥30
1.60-5.00
500-750
5.00-14.00
490-740
Metal Mesh Products
Materials Applied