Steel Wire Plant Support
Metal wire plant supports are strong and versatile. Can be installed in different growing period of the vegetables and plants. To meet specific uses, plant supports are designed in forms of wire rings, wire stake, steel ladder, wire cages and decorative shapes. As illustrated below.

Plant supports are easy way to form a well controlled yards and gardens. A great way to support climbing vines or flowering plants. The tomato and other vegetable plants will thrive in these durable wire plant supports.

Wire Support Forms:

Climbing Shrubs Support Rings


Ornamental Arch Wire Supports Designed for Garden Decoration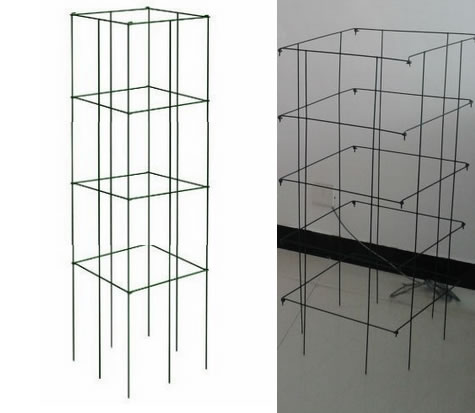 Wire Mesh Welded Ladder Support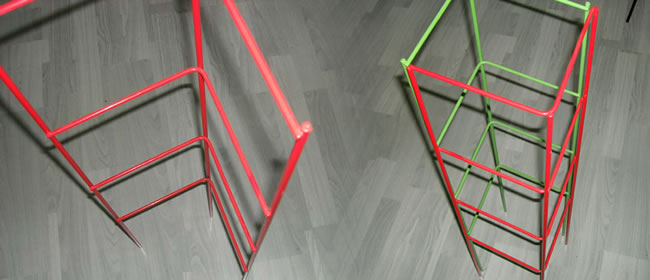 Plant Support Cages, Half Opened Structure for Harvesting and Fruits Bearing, with Decorative and Protective Green and Red Powder Coating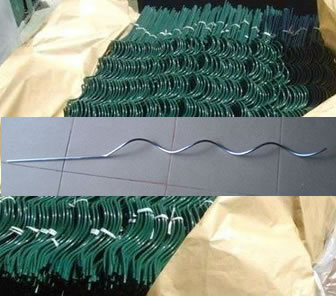 Wire Stakes for Vegetables and Grapes Support


Grid Wire Support with Adjusting Height with Growing of Plants
How to Use the Climbing Plant Support:
The wire supports can be installed before or after the plant is mature. Two wire stands or cages can be assembled as a large one unit. The plant support wires can be stabilized by putting the legs into ground, at the same time, saving growing rooms for the flowers and plants.
Surface treatment:
The mild steel wire supports of various forms either stake wire or cages, are hot dip galvanized to prolong its service life. The powder coating of green, black or other colors optional provides a decorative accent in the garden and yards.
Galvanized Steel Wire Stand:

Growing spirals. The plant finds support by growing up through the spiral wire stand.
Support Tomatoes and Plants without Cages.

Tomato Spiral / Wire Stand Size
8mm x 1.8m 8mm x 1.6m 8mm x 1.5m
7mm x 1.8m 7mm x 1.6m 7mm x 1.5m
6mm x 1.8m 6mm x 1.6m 6mm x 1.5m
5.5mm x 1.8m 5.5mm x 1.6m 5.5mm x 1.5m
High Tensile Strength Steel Cage Wire Supports: Cone cage, triangular cage and rectangular cages support for tomatoes and other plants.

Material: GI wire, Stainless steel wire, powder coated galvanized steel wire.
Made from the rustproof, zinc-coated steel wire
| | |
| --- | --- |
| Powder Coating Colors | Red, green, blue or on your request |
| Sizes | 33", 48", 58" tall are available or on your request |
| Application | For supporting plants, climbing vines, and as a tree base protector |
Features:
Cone Cage Wire Support and other cage forms. Collapsible and folding structures. Cone cage Available in: 33"48";
Strong plants while maintaining a clean environment;
Double protected: with both galvanized and UV-protected powdercoat to assure long-lasting products;
Safe for plants and will not scratch or irritate sensitive bark or foliage.
Tomato Ladders:

This steel wire support can be easily inserted into the soil in your garden or greenhouse for guiding the growth of tomatoes or vines.
Adjustable Grow Grid Link Cradle Wire Decorative Climbing Plant Support
Popular Size: 12" x 18", 16" x 24", 20" x 30"
Color: Dark Green Powder Coated
Materials: Galvanized Steel Wire
Uses: The wire grid is to provide support to plants and shrubs. The height of the grid wire support can be adjusted as the plant grows.
Metal Mesh Products
Materials Applied